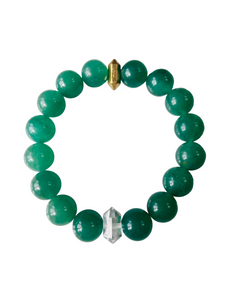 Near & Far Aid Design
Regular price
$75.00
$0.00
Unit price
per
Haute Energy is honored to present the custom design stacking bracelet for Near & Far Aid celebrating 75 Years of targeting poverty and changing lives in Fairfield County. Stay on trend and feel the healing strength of this chic, crystal jewelry must-have while showing your support for Near & Far Aid's mission. 50% of each sale will be donated to Near & Far Aid.

Aventurine was specifically selected since it is known as the Stone of Opportunity as well as a Heart Chakra stone and lastly, the beautiful green is of course the symbolic color of Near & Far Aid. The pairing of the double terminated clear crystal point is a shape of balance where one point draws the positive inwards and the other pulls the negative outwards.  Clear Crystal Quartz is known as The Master Healer and is the go-to crystal within the crystalline community because of its properties of amplification and ability to transmute energy, think here about quartz movement watches and LCD (Liquid Crystal Display) screens.

Aventurine 
Optimism * Prosperity * Self-Care
Clear Crystal Quartz 
Positivity * Balance * Clearing * Cleansing 

All pre orders placed online may be picked up on June 2nd during the Near & Far Aid House Tour where Haute Energy will be popping up at one of the Greenfield Hill homes and bracelets will also be available for purchase on the day of the tour.  Orders placed after June 2nd will be shipped.

Bracelets come in two sizes Small (6 1/2) and Medium (7) inches. Haute Energy is always happy to adjust for a perfect fit. Bracelets include a distinctive and custom designed miniature, double terminated crystal shaped logo bead with Haute Energy engraved. 

Near & Far Aid's Mission:
Near & Far Aid, an all-volunteer fundraising and fund granting organization, is dedicated to eliminating the causes and effects of poverty in Fairfield County. We accomplish our mission by finding and funding programs that provide life's most basic necessities, as well as those that seek to achieve lasting change.

---